New Zealand optometrist and contact lens specialist Jagrut Lallu has developed a new cloud-based dry eye tool to help advance research and support clinician's dry eye treatment assessments and patient management, and is seeking optometry participants for a wider trial.
News
Editor's Choice
Features
Oh, I do remember all those years ago the fundamentals of function, fit, and fashion – Optical Dispensing 101. My oh my how times have changed. From the...
What a turbulent year 2020 has been for health! We have bravely rallied against invisible viral pathogens, survived the eczema-inducing deluge of alcohol-based...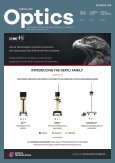 Dec 2020
If you are a current valid subscriber, please click
here
to read the latest Dec 2020 issue of
NZ Optics